Using Outlook Safe And Blocked Senders Lists
22 May 2015

Help on managing your Outlook e-mail lists, to avoid missing e-mail from your contacts, while avoiding Spam.
Outlook offers a wide range of tools to deal with junk mail. In this post, we will be going through the Outlook safe senders and blocked senders lists. These tools can be useful for blocking spam, as well as making sure important messages aren't put in the junk folder by mistake.
An important thing to note, Outlook contacts are considered safe senders by the junk mail filter, however email addresses that aren't in a contact file are not considered safe by default, even if you send an email to them. This means that replies to your emails can be caught by the junk mail filter.
The safe senders list and the Blocked senders list can be found in junk email options. This is in the "junk" drop down in the main outlook window in Outlook 2013 and in Tools > Options > Preferences tab and under the E-mail options for older versions of Outlook.
Individual email addresses can be added quickly to either list by right clicking on the email and using the junk option.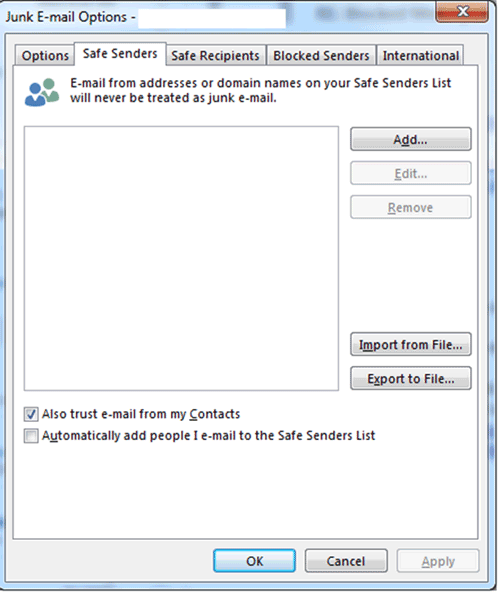 To add an email address to safe senders list, click add and enter. Please note that there are separate safe sender lists for each account in outlook. To automatically add people you email to the safe senders list, as mentioned above, click the second tick box. If an address is on the safe senders AND the blocked senders list, it will be blocked.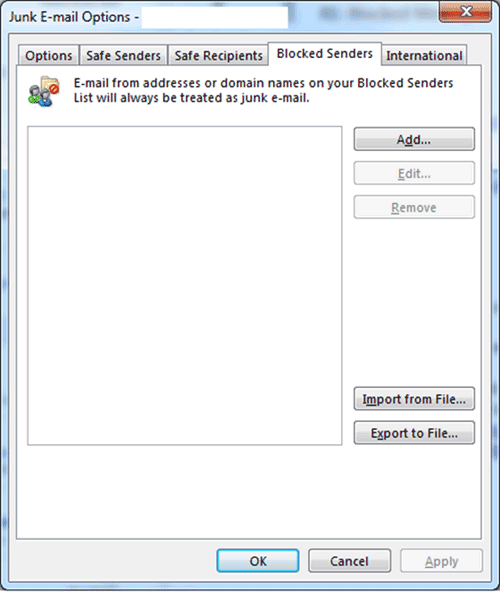 The blocked sender's list blocks listed addresses from sending mail to you. If an address is on this list and the safe senders list, it will still be blocked. As with the safe senders list, there is a separate list for each account added to Outlook. The remove option can be used to remove addresses added in error.
While Outlook does have these options for blocking junk mails, it is designed to work with other filters to block out most of the spam mail before it reaches Outlook.
Oscura are Microsoft Partners and can advise and supply hosted Microsoft Exchange accounts, which features spam filtering built in. We can offer installation and support for your e-mail service as well as on-going support for your e-mail accounts and your general IT needs.
Share this post: